Trios 5 Scanner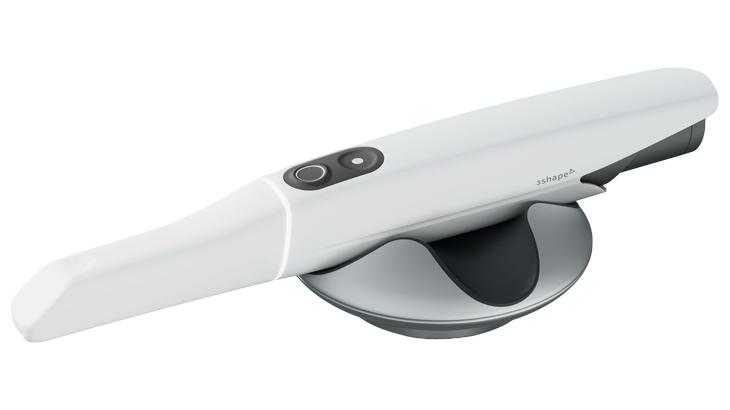 Modern dental technology brings an innovative way of planning and providing detail-oriented care to dental patients. Our dental office uses state-of-the-art technology for patient education and extensive treatment planning. High-quality dental technology ensures that we can efficiently yet accurately take impressions and educate patients about their treatment options. Dr. Andrew Nguyen uses the Trios 5 Scanner from 3Shape to treat patients in his Sunnyvale, CA office. This wireless dental scanner takes accurate images of the smile and displays them on a monitor, so Dr. Nguyen can explain to patients what dental treatment can do for their smiles.
WHAT ARE THE BENEFITS OF THE TRIOS 5 SCANNER?
There are many advantages of the Trios 5 over traditional dental impressions. The Trios 5 scanner offers:
Small and light design: The Trios 5 is much lighter than other scanners, which means we can easily hold and maneuver the scanner around the mouth.
Hygenic treatment: This scanner is simple to clean and contains an FDA-approved, sterilized tip with a microbial barrier. We also use a single-use body sleeve during scanning to prevent cross-contamination.
Minimally invasive care: The Trios 5 intraoral scanner does not require messy putty and is much more comfortable than traditional impressions. It can only take five minutes to make a complete scan.
Accurate dental impressions: We take detailed, three-dimensional images of the teeth and gums that we can see on a computer screen. Our team can also re-scan portions of the smile to create the most complete picture possible.
The Trios 5 scanner is simple and effective. Its wireless design allows us to move easily around patients and computers to get a full image of the smile. Trios 5 also uses Scan Assist, an engine that can reconstruct the model of the smile while we're scanning.
TREATMENT WITH THE TRIOS 5 SCANNER 
When we use the Trios 5, we gently move the scanner over the teeth and gums. The scanner is wirelessly connected to a computer, which captures a 3-dimensional image of the teeth and gums. Using haptic feedback, we follow the contours of the smile and thoroughly scan the smile to create a complete, precise 3D model. Haptic feedback creates a vibration to give feedback, so we don't have to refocus our attention from the screen to the scanner constantly.
Using the digital model from our complete scan, we can see a variety of dental problems, from malocclusion to missing teeth. The Trios 5 Scanner is a valuable tool for planning Invisalign treatment and implant-supported restorations like dental crowns, dental bridges, and dentures. Intraoral scanners like the Trios 5 are also valuable because they show patients the emergence of problems like gum disease or TMJ problems.
RECEIVE HIGH-QUALITY CARE TODAY
See the difference in the level of care that Dr. Andrew Nguyen provides patients using technology like the Trios 5 Scanner. Schedule a dental appointment with our dental team online or call for a consultation today at (408) 400-3133.